5 Things I Can Do With Microsoft Wise Pad W7
5 main things I can do with this great item at
Lazada Malaysia
great prize of RM599 only! What a steal for such a quality product!!!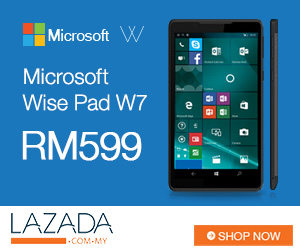 5. I can check the latest update on the share market like KLSE.
I always monitor the share market. With this baby I can always check updates without straining my eyes. Everything look nice and big really comfortable to my eyes. I can stare at it whole day although I always recommend you to rest your eyes a bit by moving it around after every 45 minutes session. Don't be like me, thats why I'm wearing spectacles although people do I say I look better with it :P
.
4. Read the latest news in comfort with the just right 7" screen.
Can share with friends the latest news and gossips happening in our community and country. Missing nothing out and join in the discussion. Not missing out of the loop anymore. Always have something to share with friends no matter the topic either with latest health tips since I'm a health freak since loving ourselves is no. 1 priority. Nobody will love us as much not forgetting our dear moms of course.
3. Transfer and receive any files immediately without hassle.
No more specially using OTG drive anymore. Any thumbdrive can be used meaning ease of sharing from my friends and sharing any important files on the spot. I simple detest the OTG since its so cumbersome changing the outlet or inlet all the time, push here and there. Now all I need is 1 side like normal pc usage since not everyone is a pc nerd and not all smartphone support OTG either. This feature definitely should be the standard for all tab, phablet or smartphone. World peace alright!!!
2. Read all my favourite ebooks in comfort.
I do read alot. Now I can read a book size screen so I won't need to scrutinize every work like in smaller screen making each read a more enjoyable experience. Going to get all the latest books at New York Times Best Seller so I can enjoy my downtimes with a cup of coffee and reading galore.
1. My top reason is able to play the latest games in spectacular colors!!!
Games are more surreal with bigger and clearer screen making enjoyment go up in a whole different level. I always think my 5" smartphone screen is a tad small for my gaming time. With Microsoft Wise Pad W7 the 7" screen is just right for 1 hand handling and it's definitely big enough to see all the tiny details with clarity.
Final Fantasy VII is a must for me to go another round with this phablet.
Specifications:
GPU: Adreno 304 400MHz + Wireless Display

7 inch, Autofocus Camera with Flash: 5MP(Rear) + 2MP(Front)

4G LTE + WiFi + Bluetooth 4.0

OTG Support + Micro SD up to 64GB.

3200mAh Battery, GPS/A-GPS
All pictures taken from
Lazada Malaysia
This post is an entry for the
InvolveAsia x Lazada MY
blogger contest
. Microsoft Wise Pad W7 sponsored by
Lazada Malaysia
and
shopcoupons
.